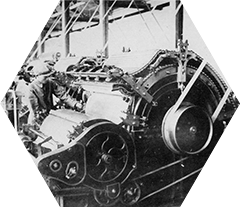 1870
Workpants made of canvas with copper rivet-reinforced
pockets became popular in the mining industry.
1873
Levi Strauss & Co. patented their rivet-reinforced pockets
and began selling products that are considered the precursor to jeans.
1878
Synthetic indigo was announced.
1888
Founded as a spinning company in Kurashiki, Okayama, Japan.
(The company's name is a portmanteau of "Kura"
from Kurashiki and "bo," which means
"spinning" in Japanese.)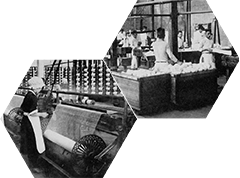 1895
Began exporting cotton yarn
under the "Mitsuuma" brand.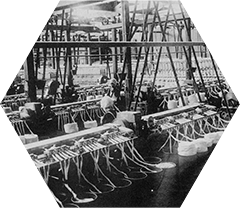 1922
Built the Okayama Kitakata Plant that would later
produce the cotton yarn used to make denim.
(It was renamed the Okayama Plant in 1930.)
1928
Sanforization was developed.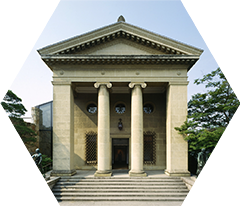 1930
Opened the Ohara Museum of Art as the first
privately operated museum in Japan that focused on western art.
(Spearheaded by 2nd generation president Magosaburo Ohara.)
1947
Manufacturers adopted the term "jeans" for the first time.
1954
Prewashed jeans were announced.
1955
New York Representative Office in order to
carry out the marketing of the United States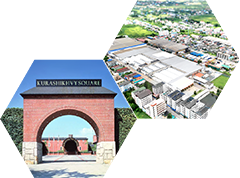 1957
Opened the first production plant outside Japan, in Brazil.
1968
Opened a production plant in Thailand.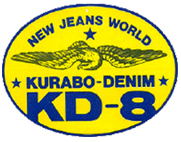 1970
Got into the denim business.
1973
Introduced spinning equipment at
the Okayama Plant to make raw yarn for denim.
Began selling "KD-8" as the first-ever denim made in Japan.
1974
Opened a production plant in Indonesia.
Closed the original headquarters plant in Kurashiki
and converted the building into the Kurashiki Ivy Square hotel.
1982
Worn jeans were announced.
1985
Developed and launched the world's first "uneven yarn."
1986
Chemical-washed jeans were announced in Japan.
1987
Opened an office in Hong Kong to oversee international sales.
Announced "KD855" as a worn-looking
denim made with hand-spun uneven yarn.
1988
Bio-washed jeans were announced in Japan.
1990
Vintage jeans became the craze.
1995
Established a subsidiary in Thailand to make raw yarn for denim.
Established technology for controlling
the "unevenness" of yarn with a computer,
and developed and launched Vintage denim.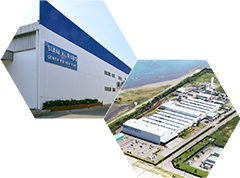 1996
Opened the Tokushima Plant as a state-of-the-art
dyeing plant in Tokushima, Japan.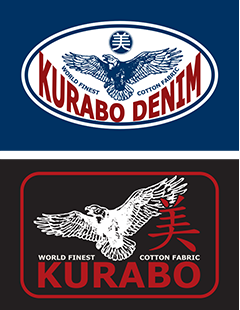 2000
Worn jeans were announced in Japan.
2003
Skinny jeans became a hit.
2013
Established a subsidiary in China
to make and sell denim.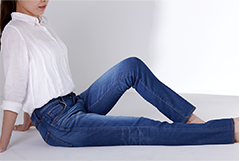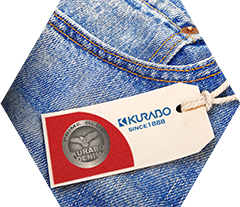 2015
Announced "Kurabo Denim Prime Blue"
as a new brand of Kurabo Denim.